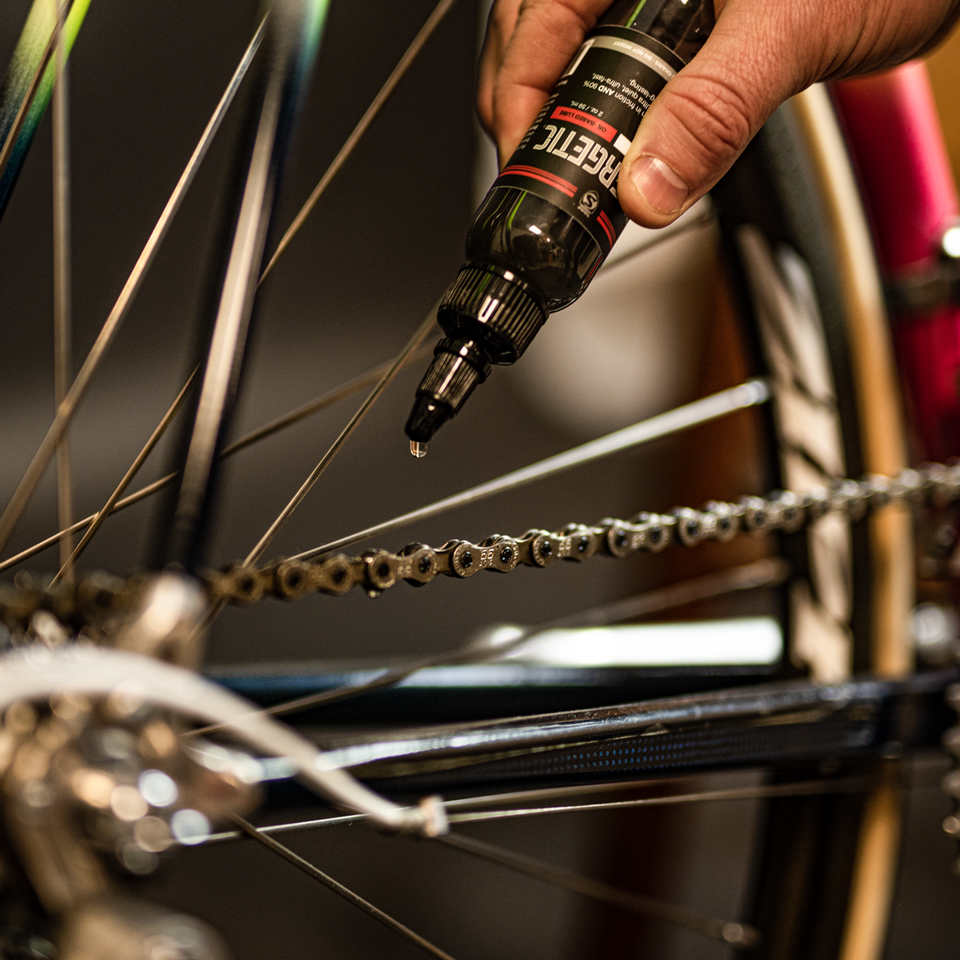 FROM THE ARTICLE:
"Based on my experience over 800km of mostly off-road riding, SILCA Synergetic® can save you enough money – over time – that it's functionally cheaper than the 'cheap' options.

It's extremely effective, very easy to live with, and will keep your bike out of the shop and rolling in those hills where it belongs."

MIKE STEAD, road.cc
REVIEW FULL ARTICLE
SILCA SYNERGETIC REVIEW
Lab Testing, Technical + Customer Reviews
Whether you are maintaining your own fleet or if someone else is doing it for you...we can all see the elephant in the room
Material and labor shortages have impacted the cycling industry, like many other industries. Understanding that we play a role in the world with accountability, and even the smallest of changes can start with your bicycle chain and drive train.

Our initial goal was to introduce the fastest, quietest chain lubricant on the planet; but as the world pandemic progressed, we realized we were doing much more.

The entire lubricant line is made from materials, compounds, and produced in a way that's less impactful to our global footprint. Other chain lubricants are made from hazardous materials and are not certainly better for efficiency or performance.

Due to the nature of our formula, we are also extending the life of your chain and drive train, which reduces the need to buy more frequently. Currently, these parts have less supply and higher demand (more cyclists +62% since 2019).

The bottom line:
The science behind Synergetic® improves bicycle performance will save you money, save the planet (reduce toxins), and increase the life span of your chain and drive train. Plus the reviews (both professional and user) are proof that science works.
LASTS AND LASTS
"Best wet lube I've ever used and I've tried a fair few. Just completed a 4 day/400 mile road trip from North to South UK. Mainly dry but a bit of rain on third day, chain ran beautifully throughout. Quiet, feels notably smooth under power, works so well. I reapplied before the last day but honestly probably didn't need to (old habits die hard). Having tried various wax based lubes including SILCA Super Secret I will be using this for all bikes going forward,will be interesting to see how it does through a UK winter. Fantastic product and would recommend in an instant."

KEN C., UK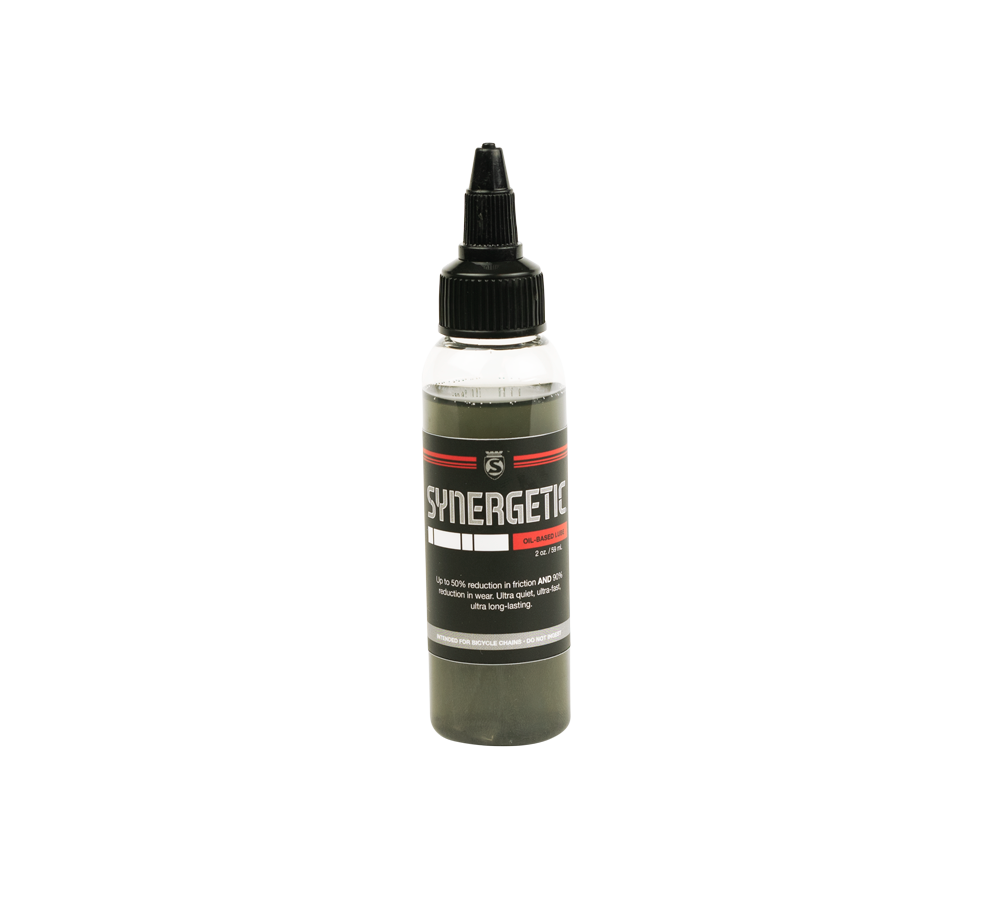 CyclingTips Article: 11 Tips to keep your bike running through an industry parts shortage
Article:
Read Now
There are several lubricants mentioned in this article, but only one featured in the image. It's not biased, it's fact that we are producing the lowest friction, smallest wear, and affordable option.
Independent Lab Results Show...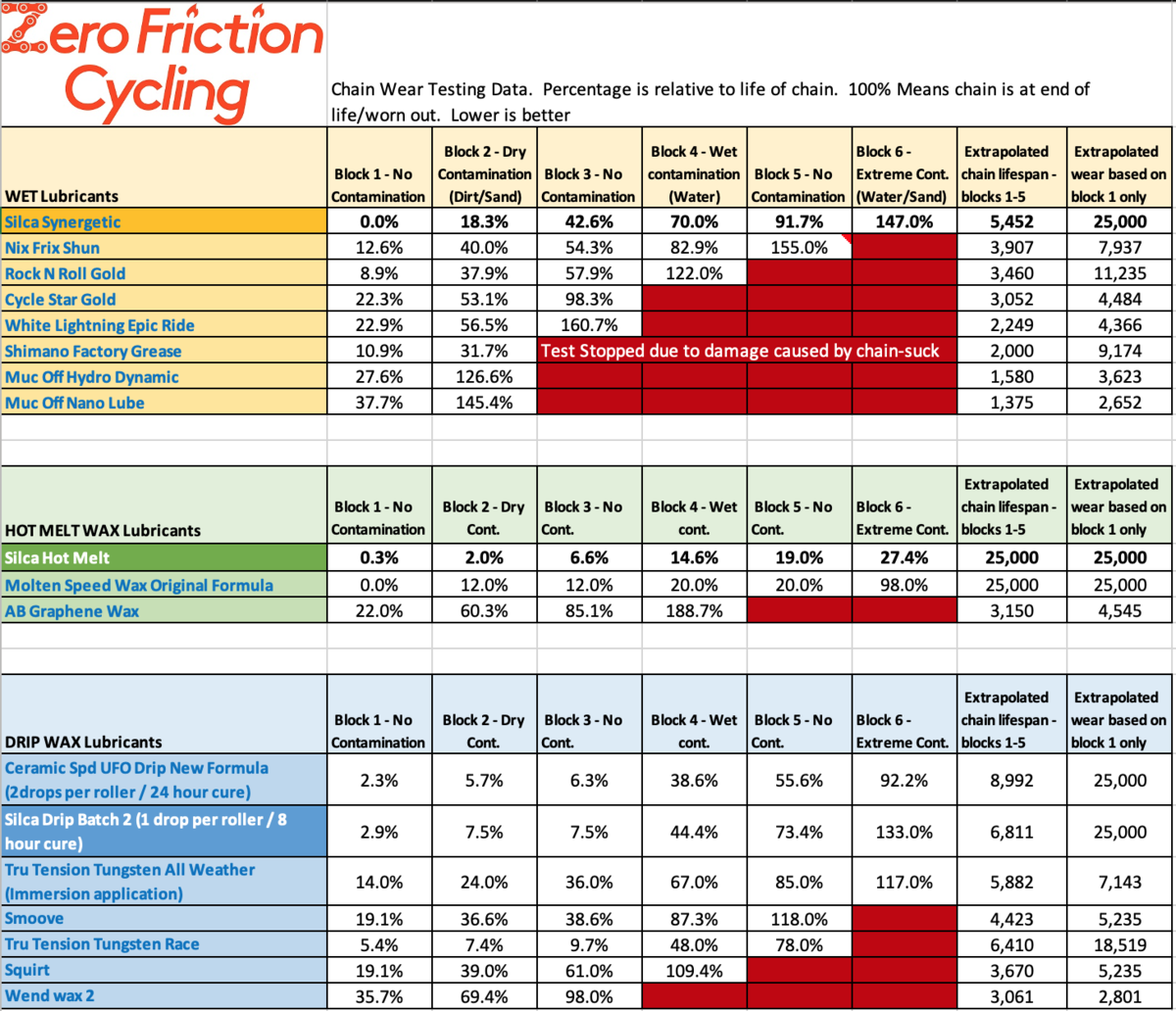 Interpreting the results Zero Friction Cycling Test Data


ZFC testing occurs in 6 blocks. Results are given in wear % of chain life
0% equals No Wear and 100% means chain is at end of life.

Block 1. 1000km Dry riding at 250w, to test penetration/coating ability of the lube
Block 2. 1000km Dry contamination, chain is sprayed with sandy loam while riding to assess contamination resistance
Block 3. 1000km Dry riding no contamination. This tests whether the lubricant retains the contaminants or can clear them
Block 4. 1000km Wet riding. Chain sprayed with water to test water resistance
Block 5. 1000km Wet contamination, chain sprayed with water and sandy loam
Block 6. 1000km Extreme we contamination, chain is sprayed with water and 2x sandy loam contamination mixture.

The test is designed to replicate real world situations to help you choose the best chain lube for your bicycle. Up until 2020 only 1 lubricant had made it through all 6 test blocks below 100% wear, and 95% of lubricants tested fail the test before reaching block 6. SILCA WS2 technology has produced lubricants in all 3 lubricant type categories which make it to block 6 including the current all-time test winner, SILCA Secret Blend hot wax which has beaten the previous record holder by nearly 4x!

(Please note, there is no 'Dry Lube' category. Dry lubricants test poorly in efficiency and often will not survive to Block 2 of testing. These lubes tend to be mostly solvent mixed with dry lubricant powder and are both environmentally harmful as well as fast wearing and inefficient.)
Read the Report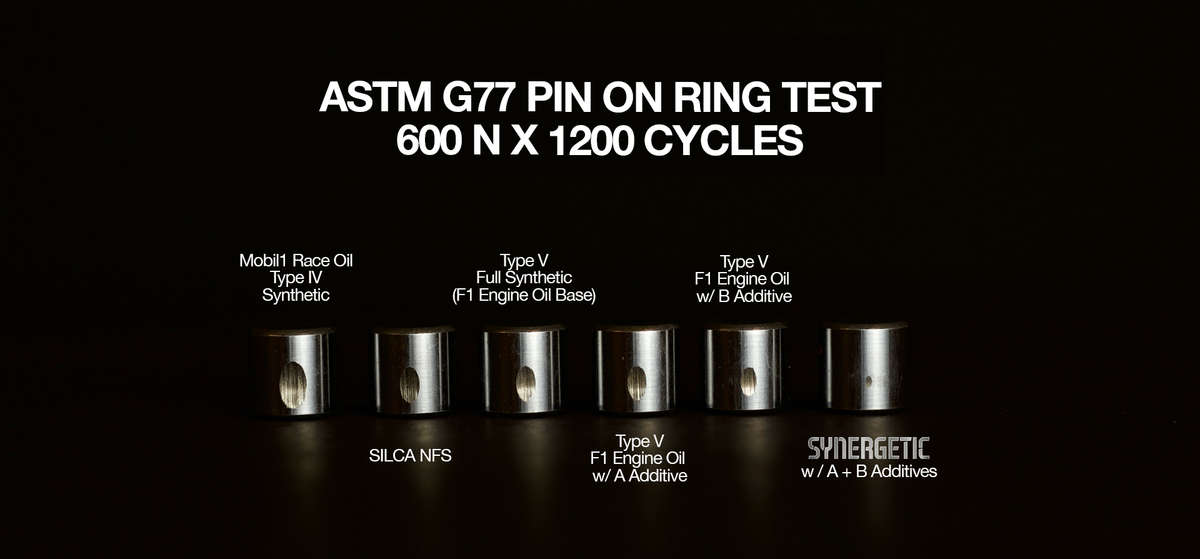 BEST CHAIN LUBE EVER
"Great lube. As it is saying, it's really ultra quite, ultra smooth. I've used lots of things from wax based model like ufo and squart to oil based lubes. It's smooth as much as best wax, but it's long lasting and kept clean than any other lubes."

JUNYOUNG K., South Korea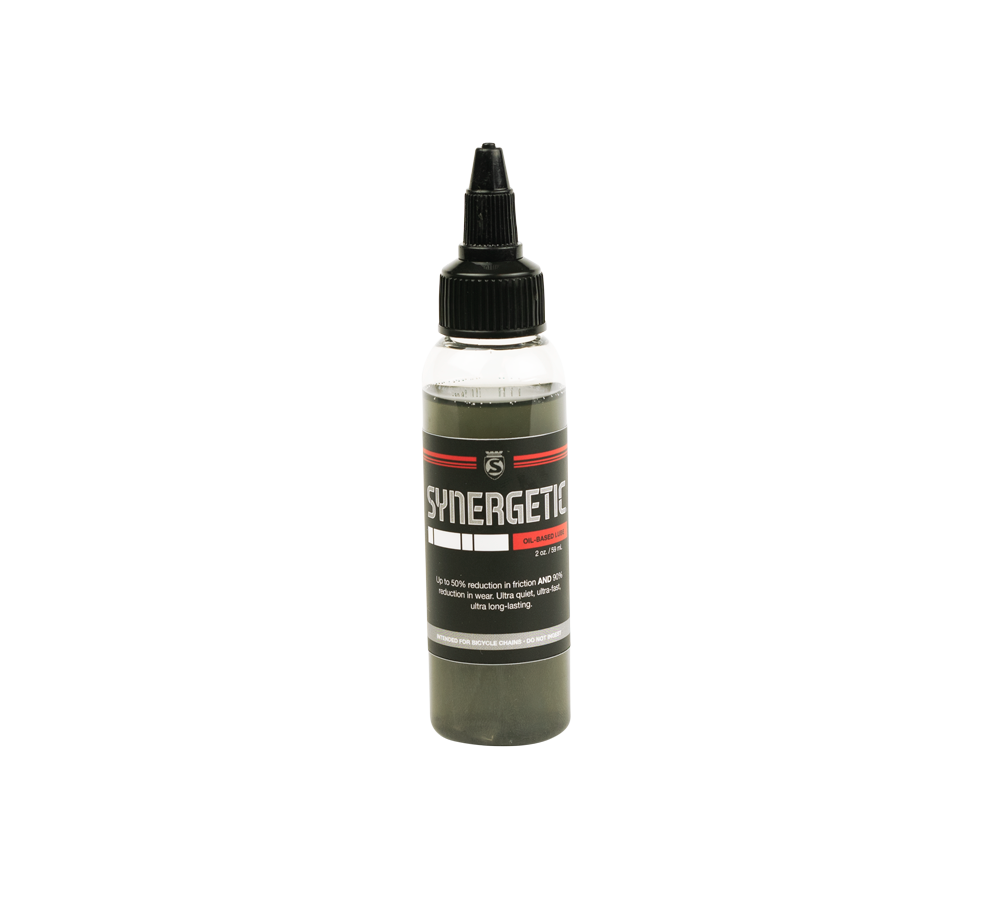 World's Fastest, Longest Lasting, Lowest Wearing Wet Lube (According to ZFC Lab)
Quick apply and go formula
Can be applied directly over factory lube
The ONLY wet lube to record 0.0% wear in ZFC Test
Longest single application life of any wet lube
Wipe off chain to start and re-apply as needed
Perfect for ultra distances and extreme weather
Precision applicator tip for less mess, better control
No need to cure after application
Fastest traditional chain lube ever tested
Interested in the science of Synergetic? Click Here
SHOP LUBRICANTS